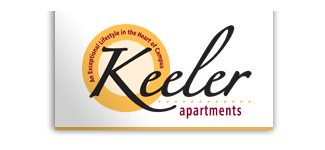 Create an Account to Begin
To start your application, create an account. We will be able to save your progress and enable you to come back anytime to check on the status of your application.

INTERNATIONAL STUDENTS: You will need to submit an I-20 form and provide your current Visa and Passport to the leasing office. 3 Months advanced payment will also be required at time of move-in.

We are taking a waiting list for one bedrooms for Fall 2016
Welcome to Keeler Apartments! Our on-line application process allows you to review our Statement of Rental Policy, submit an Application and make a pre-lease deposit that will hold a bedroom or apartment for you. All applicants must read and consent to, the screening and background check set forth in the Statement of Rental Policy before an application will be accepted and processed. No bedroom or apartment will be held without the submission of a pre-lease deposit and your completion of the Pre-lease Deposit Agreement at the end of this site. Before applications are processed, or any bedroom or apartment is held, Keeler Apartments must receive your on-line payment. A separate site will allow you to submit on-line payment. Remember payment must be received before applications are processed or any space is held.
By clicking below that you have read and agreed to the policy and background check, want to submit an application, and are making your Pre-lease Deposit, you are taking your first step to a home at Keeler Apartments.
For any questions, please call (855) 414-9258.